Digital Landscape Architecture Conference DLA
next DLA 2022 "HYBRID: Analog + Digital = The next normal" in Boston
Bernburg, June 2, 2021 – An Interims report o DLA 2021
The Digital Landscape Architecture Conference DLA May 26-28 at Anhalt University with 400 participants from 45 countries remains very popular.
We are very happy that this year's second virtual DLA, organized in Germany, had 900 registrations and 400 active participants, keeping with the level of participation of last year's DLA at Harvard University.
We tried to offer a compact format which was moderated through the entire conference by live moderators.
We learned that Digital Landscape Architecture offers tools needed to contribute to the extensive challenges of Resilient Landscape Architecture and Global Change. After the first day of very well received workshops on UAF, Geodesign, and BIM, the second day focused on Resilient Landscape Architecture. The final day was devoted to standardization in landscape architecture, such as Building Information Models – BIM.
Prof. Dr. Dirk Messner, President of the German Environmental Agency, UBA Umweltbundesamt, in his Welcome Address defined the role of technical tools such as digitalization, Artificial Intelligence, machine learning and digital twins, addressing the objectives of the United Nations' Agenda 2030. The opening keynote speaker, landscape architect Kotchakorn Voraakhom from Thailand, introduced the problem of rainwater management in the completely sealed city of Bangkok. Keynote speaker landscape architect Mohan S. Rao of India introduced his work on integrating all involved parties in addressing issues of global change. The keynotes on the final day focused on Building Information Models and the need for further development towards Landscape Information Models that address environmental factors more adequately.
The DLA offered three parallel sessions with eight different topics in addition to the keynote lectures. The forty-five lectures are already published as open access paper in JoDLA.info
The video documentation of the sessions and panels will be documented on the DLA web page www.dla-conference.com
Currently online are two lectures from the conference on teaching landscape architecture studios virtually by Prof. Dr. Travis Flohr and Prof. Dr. Jörg Rekittke. The documentation of all presentations will be soon made available.
Some of this year's DLA pictures: The live panel – here during handing over the DLA 2022 to Harvard at the end of the conference, and a snap shot the communication tool.


The closing moderators from left Prof. Dr. Stephen Ervin, Prof. Dr. Matthias Pietsch, Prof. Erich Buhmann, Jeanne Colgan and Prof. Dr. Jörg Rekittke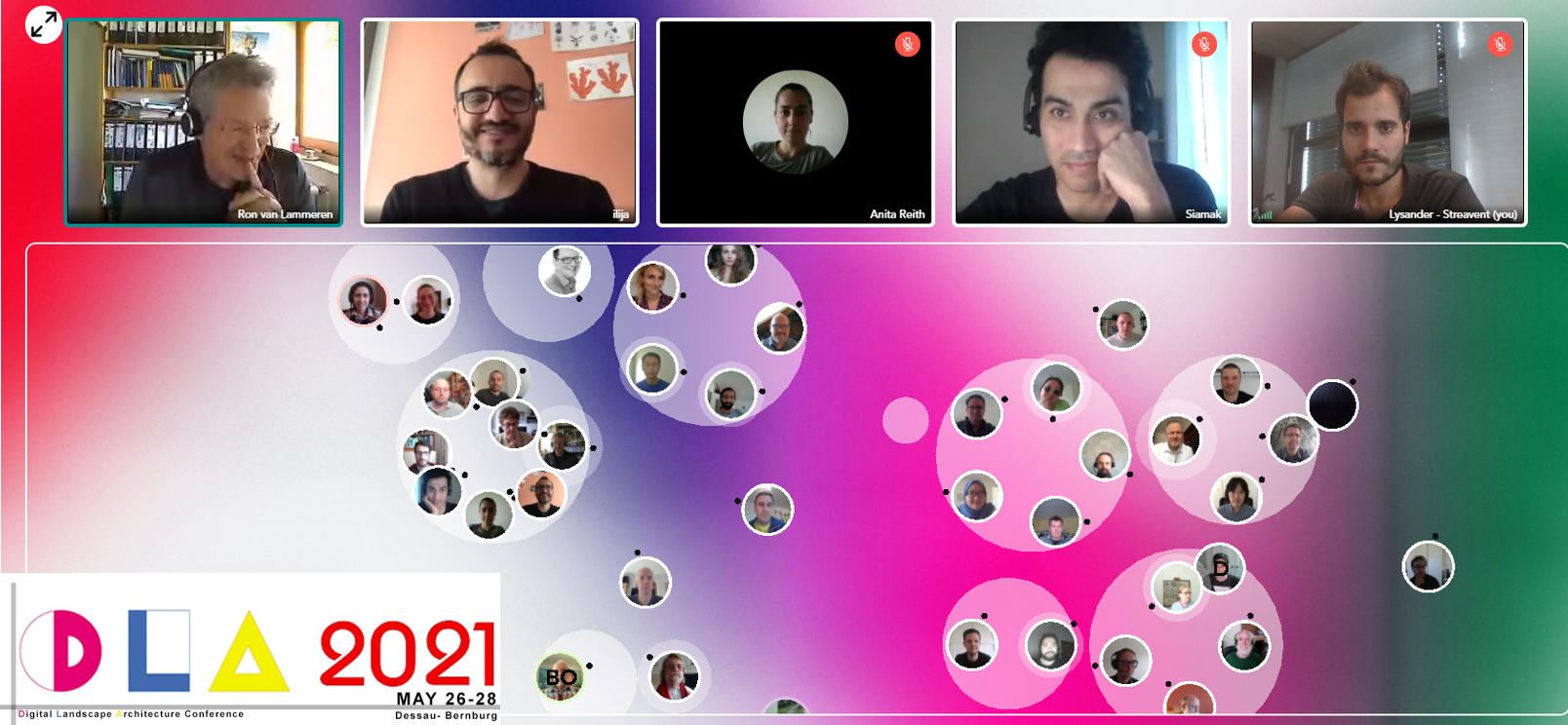 Before all the material of the conference is edited, you can watch uncut sessions of the auditorium, plus a video from Room 2 on BIM, on Youtube:
https://www.youtube.com/watch?v=qeqUiS2rcME
You can jump to your point of interest:
10:00 Welcome by Prof. Matthias Pietsch
22:45 Impulse on BIM by Dr. Josef Kauer
50:41 Keynote Prof. Dr. Thomas H. Kolbe, TUM: The Digital Landscape Twin. Joint Perspective of BiM, LIM and GIS (end: 1:25:14)
3:40:10 Live Round table on sessions before
4:02.00 Keynote Talk Prof. h.c. Dr. Chirine Etezadzadeh, SmartCity. Institute an prof. Mathias Pietsch: "How to integrate landscape in the smart city development? (end 4:38.43)
4:47:35: Prof. Dr. Jörg Rekittke, Kristine Lee Petersen, Molly Andrews, Norwegian University of Life Sciences (NMBU): Remote Wayfaring and Virtual Fieldwork (end 4:59:55)
5:51:00: Live Round table on sessions before
5:59:00 Closing of DLA 2021 and Invitation to DLA 2022 by Prof. Dr. Stephen Ervin, GSD at Harvard University (end 6:32:00)
And a big thank you to all authors, speakers, reviewers, moderators, technical supporters, sponsors and supporters!
We are looking forward to feedback on this year's DLA.
The DLA team is already preparing to accept the next abstracts by November 1, 2021. Accepted papers will be published in May 2022 for the section of presentations in Boston in June 2022.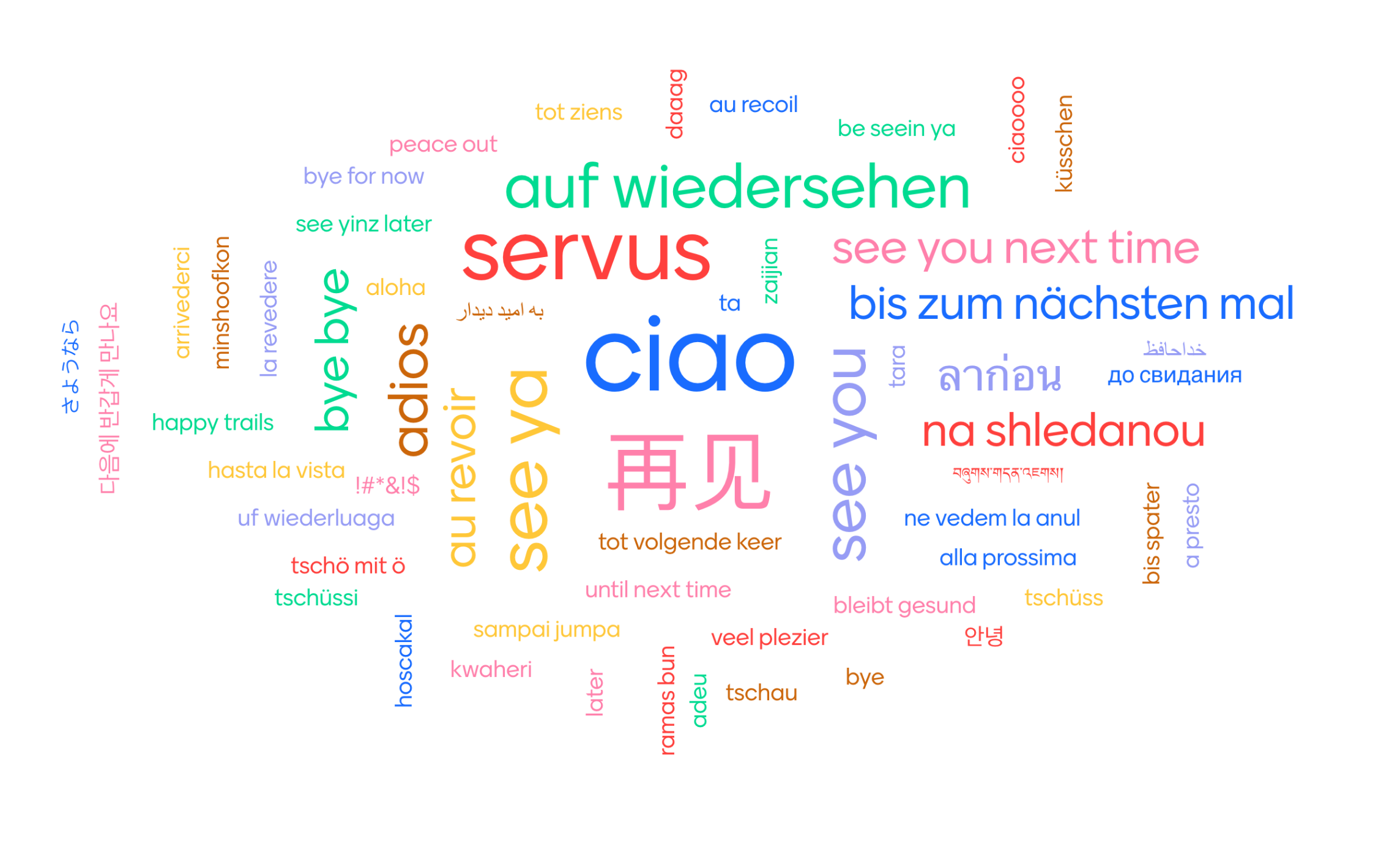 The annual international Digital Landscape Architecture DLA
addresses all aspects of digital technologies, applications, information, and knowledge based on research, education, and practice pertaining to landscape architecture and related fields. 
While the conference is frequently hosted on the Anhalt University Campus adjacent to the Bauhaus World Heritage Site in Dessau; Germany or on the nearby campus in Bernburg, the DLA has also been hosted by landscape architecture faculties in Valletta, Zürich, Istanbul, Munich and Boston.
Papers are selected by a two-phase peer review process. Accepted papers are published in the Journal Digital Landscape Architecture JoDLA. Authors of outstanding papers are then invited to speak at the conference. The journal publishes original papers that address theoretical and practical issues, innovative developments, methods, applications, findings, and case studies that are drawn primarily from work presented at the annual DLA conference. Its intent is to encourage the broad dissemination of these ideas, innovations, and practices. The JoDLA is listed in the international citation database Scopus.
The JoDLA has an open access policy. Past issues are available at jodla.info
We encourage you to participate in the DLA.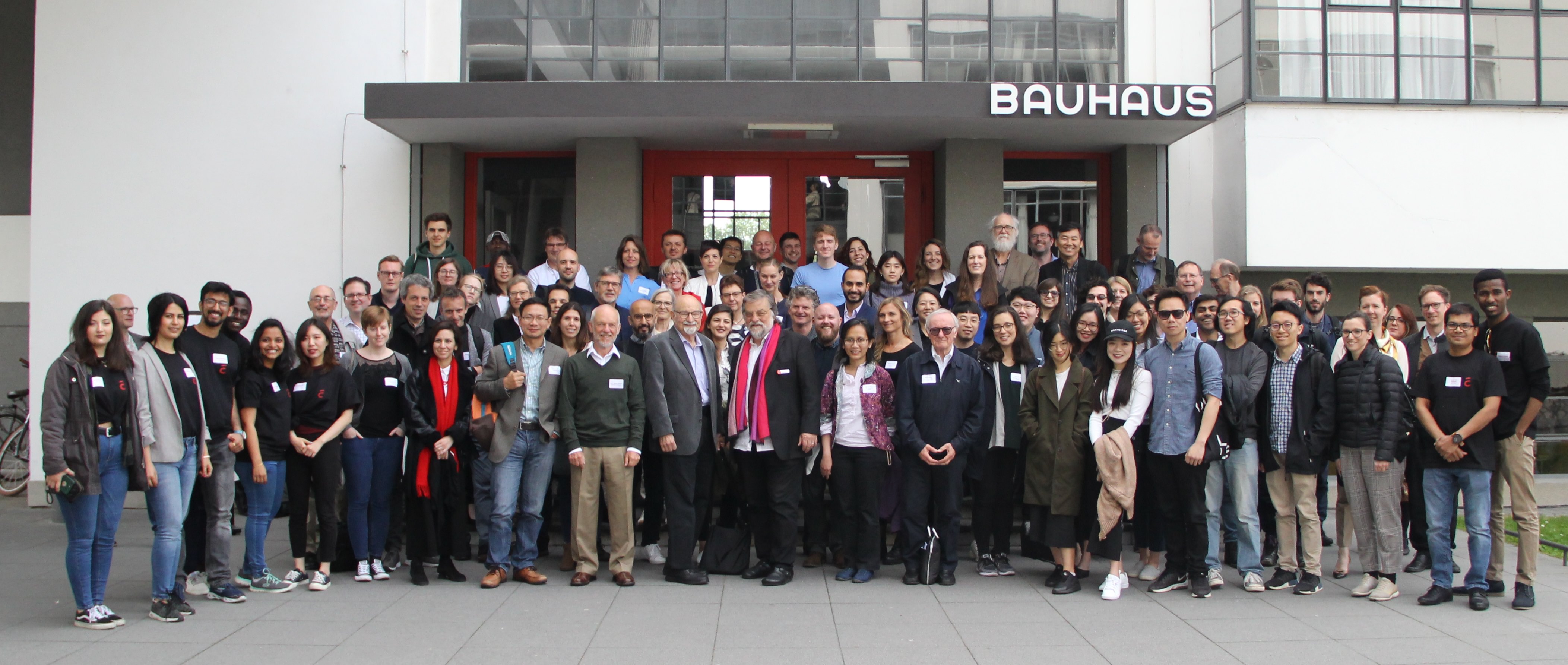 130 Landscape Architects from thirty countries attending the 20th Digital Landscape Architecture Conference DLA

June 18th, 2021
The Journal of Digital Landscape Architecture JoDLA is listed in the international citation database Scopus, where it is in the 65th percentile among architecture journals.
-> jodla.info
June 16th, 2021
Jury Report DLA Poster 2021
The three winning DLA 2021 posters from three continents!
JoDLA invites 56 authors from 19 countries to submit to Full Paper Review by January 10, 2021 – Congratulations to the Authors! The results of the abstract review: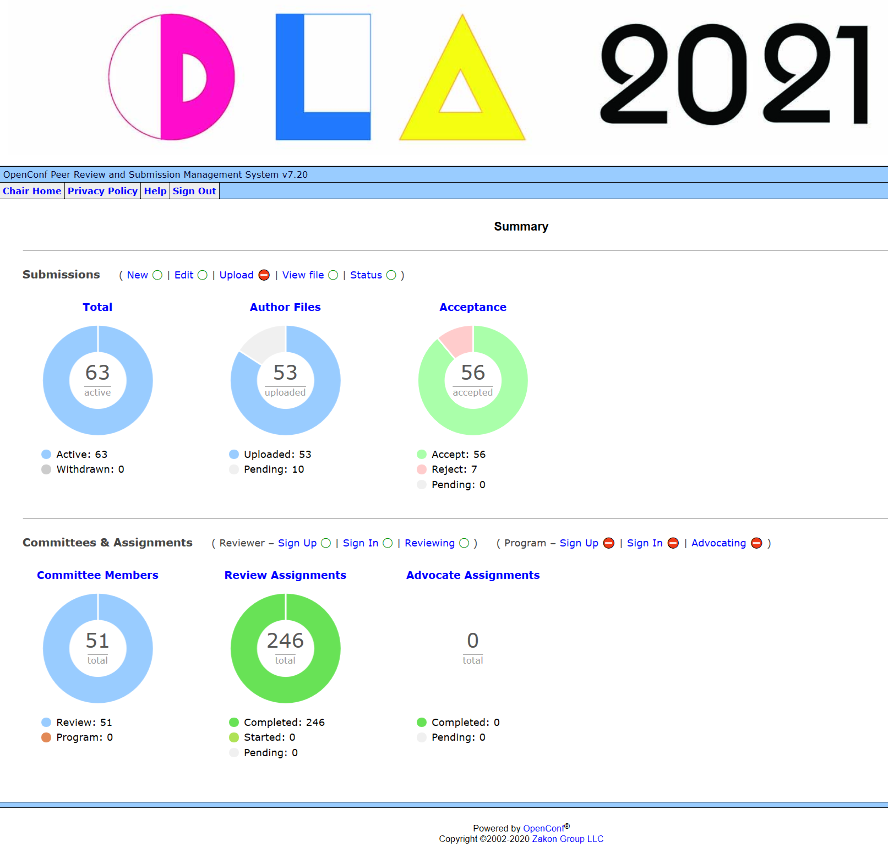 next: DLA 2021 May 25-28 in Dessau
Important Dates for the review process for DLA 2022 Boston
Bearbeiten

| | |
| --- | --- |
| Opening Call for Abstracts | Sep. 1, 2021 |
| Abstracts due | Nov. 1, 2021 |
| Notification of acceptance | Dec. 1, 2021 |
| Full manuscript submission due: | Jan. 10, 2022 |
| Opening of Call for posters | Feb. 1, 2022 |
| Manuscript reviews returned: | Feb 15, 2022 |
| Revised/ final manuscriptur due: | March 1, 2022 |
| Posters and Art submissions due | May 1, 2022 |
| Conference | June 6 – June, 2022 (final date TBA) |
| Post-Conf. Activities / Field Trips | June 8 – 11, 2022 (TBA) |
Main Theme and Suggested Topics:
For the 23 rd Digital Landscape Architecture Conference, the Editors and the Editorial Board of the Journal of Digital Landscape Architecture cordially invite you to submit abstracts for original, unpublished presentations focusing on the conference's main theme
"HYBRID: Analog + Digital = The next normal"
Abstracts, posters and panel proposals are encouraged on one or more of these topics:
1) Post-Pandemic Hybridization in Life, Landscapes and Practice
2) Algorithmic Design and Analysis of Landscapes
3) Mobile Devices, Internet-of-Things, and 'Smart' systems in the Landscape
4) Data Science and Landscape Information Modelling
5) Drone/UAV Imagery and uses
6) Digital Fabrication in Landscape Architecture
7) Visualization and Animation of Landscapes
8) Mixed reality (AR / VR) and Immersive Environments
9) Geodesign Approaches, Technologies, and Case Studies
10) Digital Landscape Architectural Responses to Climate Change
11) Teaching Digital Landscape Architecture
12) Digital Landscape Architecture in Practice
JoDLA Review Process: https://www.dla-conference.com/
or dla-JoDLA@t-online.de
The author's fee for the publication will be 350 Euros for the standard 8 pages of print
with the option of publishing up to 4 extra pages for 50 Euros per additional page.
The conference language is English. The DLA 2022 conference will be held at the Graduate
School of Design, Harvard University, Cambridge Mass, USA
For further information please contact:
Stephen Ervin, Conference Chair
Email: DLA2022@gsd.harvard.edu
http://2022.dla-conference.com
DLA Conference Local Chair 2020: Stephen Ervin, Harvard GSD
DLA Conference Scientific Director: Prof. Erich Buhmann, Hochschule Anhalt
Impressions from DLA Dessau, 2015
DLA | Digital Landscape Architecture